Domains ranging from commerce, to communications, to transportation and beyond make use of computers and the Internet to operate. While it cannot be denied that these technologies have made life easier for almost everyone, we should not discount the fact that using them also comes with unexpected downsides. One of which is the threat it poses to the information assets that people, businesses, and governments use and store in computer systems, networks, programs, and devices.
When it comes to the scale and range of threats to information assets, the numbers are astounding. 97 percent of Fortune 500 companies reported that they have fallen victim to a cyber-attack or breach at one point in their operations, and more than 100 governments are fighting battles against malicious entities online. Likewise, in just the first half of 2021, there 301 reported breaches—mainly through hacking and malware—that exposed more than five million sensitive data and costing people, businesses, and governments billions of pounds.
Considering how vulnerable computer systems are to attacks, there is no doubt that emphasis is being given towards reinforcing cyber security, especially by businesses. This, in turn, leads to an increased need for cyber security experts, with demand reaching an all-time high. In the US alone, more than 300,000 cyber security jobs remain vacant, and elsewhere in the world, the number is higher and is expected to further increase in the coming years. With these opportunities, this is an exciting time to start a career in the field.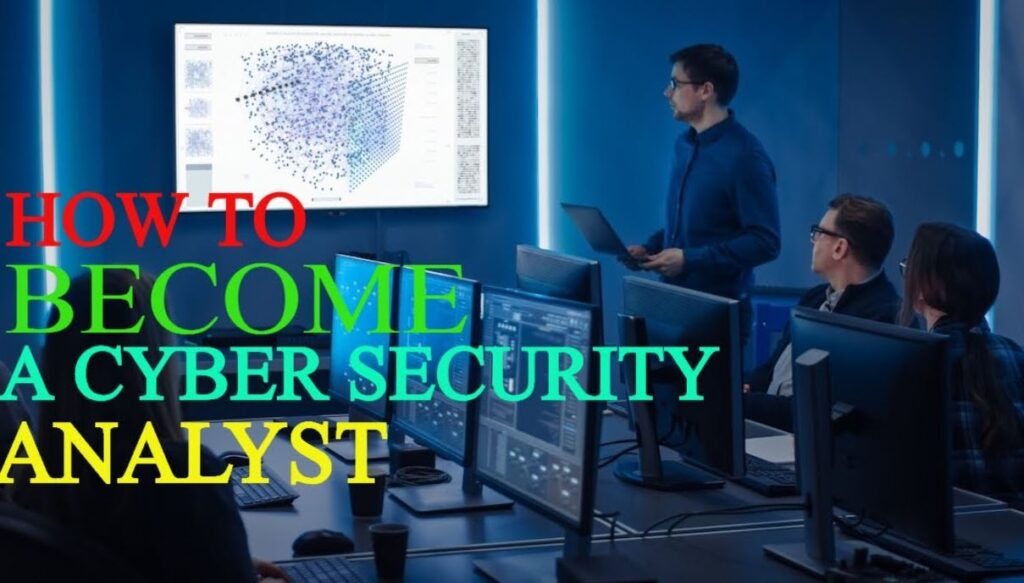 If you have an interest in cyber security and are contemplating to a pursue a career in this discipline, you have come to the right place. We have prepared this simple guide to give you a quick look at what cyber security is all about and help you know how to become a cyber security analyst.
Understanding Cyber Security
Cyber security involves the prevention and recovery of computer systems, networks, devices and programs from cyber-attacks. Cyber criminals are becoming more sophisticated in the way they conduct data breach campaigns, often employing methods supported by artificial intelligence and social engineering to bypass conventional security controls. Due to this, cyber security is something businesses can no longer ignore.
There are a number of ways cyber security can be implemented. The most basic involves educating people and building and fostering a culture of cyber security awareness in the workplace to prevent human error that is pointed out as one of the biggest factors that initiates and amplifies cyber-attack in businesses. Other approaches include protecting sensitive data through ongoing monitoring and limiting access to internal networks, and implementing third-party risk management solutions.
What Does a Cyber Security Analyst Do?
Cyber security is a broad field, encompassing several practice areas including network security, application security, information security, and disaster recovery, among others. Due to this, there are also a number of roles within the field. One of them is that of cyber security analyst.
A cyber security analyst ensures the safety of computer infrastructure and information networks. The role entails a range of responsibilities that include secure measure and control planning, implementation and upgrade; file access control and credentialling; firewall and network maintenance updates; management of intrusion detection and prevention systems; security breach analysis; and corporate security policy implementation and maintenance.
Cyber security analyst ranks high up in the most in-demand roles in the field of cyber security. This is due in part to the increase in remote work brought about by the pandemic, which has created a significant attack surface for cyber criminals. Accordingly, the demand for cyber security analysts is further expected to grow through 2029, about five times faster that the growth of other jobs. As companies grow more vigilant about cyber-attacks, cyber security analysts are seen as crucial employees for strengthening their overall cyber security infrastructure. As such, these companies are willing to pay a premium to hire the best talents, with cyber security analysts salary averaging around £36,847 per year, according to Indeed.
How to Become a Cyber Security Analyst
Now that you are aware of the work of a cyber security analyst, you likely want to take advantage of the growing job opportunities available for the role. In that case, here are some steps to consider so you know how to become a cyber security analyst.
Get a relevant degree or earn a certificate
Most cyber security analyst jobs require candidates to have a bachelor's degree in computer science, programming, programming or other closely related field. Employers want to ensure that the foundation knowledge to draw upon in tackling cyber security analysis job.
If you have already completed your bachelor's degree, working towards a master's degree in cyber security will enable you to dive deeper into more complex aspects of the field. It will also allow you to effectively devise mitigation plans, apply multiple risk assessment methods and strategies, understand the legal and ethical aspects of cybersecurity, and conduct in-depth research into specific cyber security topics.
Undertaking a cyber security certificate course is another option to learn about and build your skills in the discipline. You can find a number of certificate courses online that will expose you to the current threat landscape and develop your knowledge of information systems and the tools, processes, and best practices for defending information assets against cyber-attacks.
The best ones of these cyber security courses are those developed by experts in the field and will earn you a certification that you can use in your job applications demonstrate to your proficiency in cyber security. This is an ideal option if you have a limited time to study and do not have extensive technical background to show.
Put your technical cyber security skills into practice and build your experience
When you have the fundamentals nailed down, it is important to learn how to apply them so you know what to do when a cyber attack happens. Do this by completing common cyber security tasks, such as analyzing network traffic, conducting security audits, and encrypting information.
It will also benefit you if you undertake cyber security apprenticeships with companies in the sector. This will not only help expand your cyber security knowledge, but will provide you real opportunities to handle real-world challenges while being guided and mentored by a seasoned cyber security analyst. If you are finding it difficult to land an apprenticeship, a good alternative is to enrol in a relevant bootcamp or training lab that mimic real workplace environments. There are hundreds of this online so it should not be difficult to find one that fits your schedule and budget.
Do your research
Cyber security is a constantly evolving discipline brought about by emerging technologies and changing approaches and workarounds of cyber criminals. As such, it is important that you stay on top of the developments in the field, along with the trends in security and information technology, so you know exactly how to align your knowledge and skills with those developments.
As mentioned earlier, cyber security analyst jobs are in high demand. You can find a number of vacancies not just in IT, but also in such sectors as energy, telecommunication, financial services, healthcare, manufacturing, retail, construction, and more.
When applying for a cyber security analyst role, make sure to tailor your CV and cover letter to the job you are applying for. That way, you can effectively highlight your qualifications, and for recruiters or hiring managers to easily find you.
In the event that you get invited for an interview, do not forget to prepare ahead of time. Research the company you will be interviewing with, prep the possible questions and their answers, jot down questions you would like to ask, and do mock interviews with family or friends. All these things can help you keep it together and perform at your best during the interview, which can significantly increase your chances of getting a job offer for a cyber security analyst role.